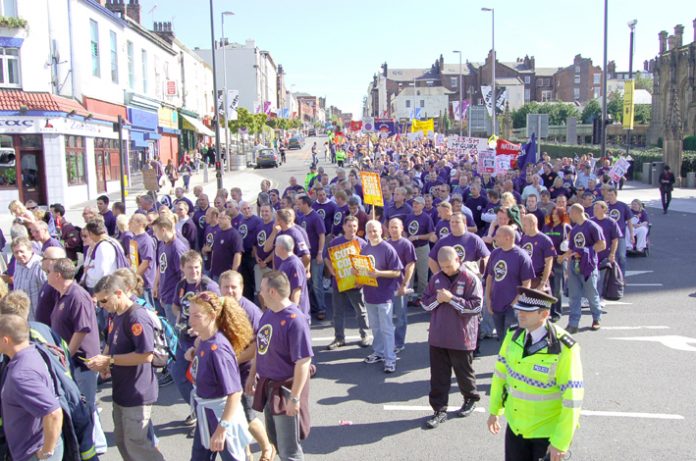 LONDON Fire Brigade bosses are spending £12million of tax-payers' money training a blackleg workforce to provide fire cover in the capital in the event that FBU members take industrial action later in the year over attacks to shift patterns and other conditions of service, warned the London Region FBU (Fire Brigades Union) on Monday.
The exposure of the contingency arrangements, secretly brought to the FBU's attention some weeks ago and revealed in the press on Monday is likely to seriously embarrass top managers, who recently attacked the union for making its own plans for industrial action, the FBU added.
It continued: 'In propaganda sent to all firefighters, the brigade described the union's preparations as "confrontational", and accused officials of behaving in a way that was neither "sensible" nor "moderate".
'Yet it now transpires that those same managers were simultaneously putting the finishing touches to their own plans to provide a privatised back-up service to the capital in the event that unwelcome change forces the union to ballot its members for action.
'Questions have also been raised regarding the transparency of the process which resulted in AssetCo – the company which already owns London's fleet of appliances – being awarded the contract to deliver the skeleton force.
'AssetCo recently reported debts of £83.9million, a rise of 60 per cent on the previous year.
The lucrative £12million contract from the London Fire Brigade, intended to run for five years, will come as a huge relief to the company's directors, who now say it is their aim to reach similar agreements with fire and rescue services throughout the UK, using the London arrangement as a blueprint.
The FBU has learned that the London Fire and Emergency Planning Authority (LFEPA) chairman, Brian Coleman, enjoyed hospitality provided by the chief executive officer of AssetCo, John Shannon, on three occasions between October 2007 and January 2009, in the form of one lunch and two dinner dates.
'Mr Shannon also made a Christmas gift of a £350 Harvey Nichols hamper to Coleman in December 2008.
'This information was brought to the FBU's attention following a Freedom of Information request by a journalist, the LFEPA gifts and hospitality register not being easily accessible.
'As part of the contingency plans, the brigade will immediately send a collection of volunteers, some of whom are retired firefighters, to a location in Lincolnshire to undergo training provided by that county's fire and rescue service.
'The union has also learned that a number of fire appliances have also been dispatched from London.
'The brigade hopes to be able to deploy 27 pumping appliances from 27 locations in the event that normal frontline services become unavailable, a strategy the union says would be wholly inadequate, as illustrated by the strain on resources experienced during recent fires in Camberwell and Soho.
'The brigade has argued that the plans are standard practice for fire authorities, which are required under legislation passed in 2004 to make fallback arrangements for the unavailability of firefighters due to events such as "flu epidemics".
'But it is surely no coincidence that it is only now, five years after the legislation was passed and just as the contentious matter of shifts returns to the negotiating table, that the brigade has decided to act.
'It is also instructive that no other fire and rescue service in the UK has been so enthusiastic about making such detailed arrangements.
FBU London regional official, Paul Embery, said last night: 'If any member required evidence of the double standards and mendacity of some of those running the London Fire Brigade, then here it is.
'It is quite astonishing that at the same time as brigade managers were accusing us of acting confrontationally for talking about industrial action as a response to the attack on conditions of service, they were beavering away behind the scenes, making their own preparations.
'Why is it okay for the brigade to prepare for industrial action, but unacceptable for the FBU to even discuss the prospect with its members?
'The whole thing stinks of hypocrisy.
'Instead of squandering millions of pounds of taxpayers' money cutting deals with their chums at AssetCo, they should spend some energy on rebuilding industrial relations in the London Fire Brigade.'
The FBU statement added: 'Top managers know that there is massive opposition to their proposals to introduce 12- hour shifts in London, and the contingency arrangements appear to be a recognition by them of the fact that an overwhelming number of FBU members would support a ballot for action.
'However, the FBU will not be deterred by this latest development.
'AssetCo's wining and dining tactics might appear to have paid dividends for them, but I have no doubt that many of the volunteers, being ex-firefighters themselves, will refuse to participate when they realise how they will be used,' added Paul Embery.
'In any case, if anyone thinks we are going to be sidetracked from fighting to defend shifts and other conditions just because the brigade has got together a ragbag collection of Dad's Army blacklegs, they can think again.
'Our members have been at breaking point for many months.
'That's why we are kicking off a campaign designed to turn the tide. For too long, the brigade has got away with attacking us. The mood among members suggests all that is set to change.'