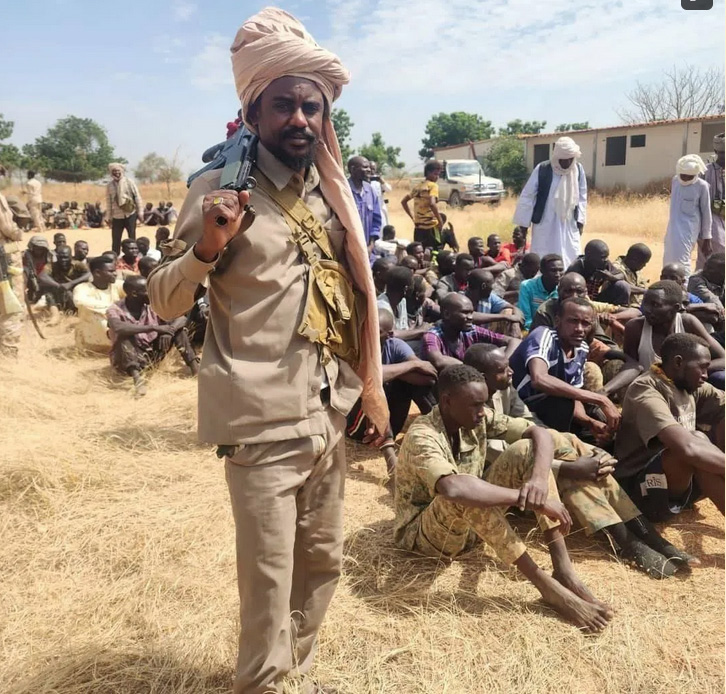 THE United Nations High Commissioner for Refugees (UNHCR) has raised alarms over an escalating humanitarian crisis in Sudan.
Dominique Hyde, UNHCR's Director of External Relations, stated that the war that began unexpectedly in April has devastated Sudanese homes, transforming them into involuntary memorials of conflict.
Hyde's recent visit to Sudan revealed a staggering increase in human suffering, largely unnoticed by the global community.
'Away from the world's attention, the Sudanese conflict rages on, bringing unimaginable distress to the population,' she reported.
The numbers are stark: since the onset of the war, an estimated 4.5 million people have been internally displaced, while another 1.2 million, predominantly women and girls, have sought refuge in neighbouring countries like Chad.
The crisis has been especially acute in the Darfur region. Fighting between the Sudanese Armed Forces (SAF) and Rapid Support Forces (RSF) has resulted in a dramatic spike in displacement.
Thousands are left without adequate shelter, with many having no alternative but to sleep under trees along roadsides.
Access to essentials such as food, shelter, and clean water remains a distant reality for many. 'The repeat of atrocities that occurred two decades ago in Darfur, happening again today with such scant attention, is disgraceful,' Hyde lamented.
The situation in White Nile state is equally dire, where over 433,000 internally displaced persons (IDPs) strain the already overstretched resources of the refugee camps that also house nearly 300,000 refugees, mostly from South Sudan.
The conflict has shut down schools, now repurposed as shelters, further crippling educational opportunities for the youth. Hyde also shed light on a measles outbreak and pervasive malnutrition in the region, leading to the deaths of over 1,200 children under five in just four months.
In Chad, the influx of refugees from Sudan continues to rise, with approximately 450,000 arrivals since April.
Chad, one of the world's poorest nations, is now home to nearly a million refugees, yet its humanitarian response plan remains critically underfunded.
Natalia Kanem, Executive Director of the UN Population Fund (UNFPA), outlined the impact of the Sudan crisis on women, upon her return from Chad.
She emphasised the significance of women's empowerment in building a stable and peaceful future, and condemned the perpetuation of violence.
'The fate of humanity should not be dictated by those who wage war but by the collective efforts of women and their allies striving for peace,' Kanem stated.
Meanwhile, in the Democratic Republic of the Congo (DRC), a humanitarian crisis of alarming proportions is unfolding as political uncertainty, civil unrest, and armed conflicts continue to cause widespread suffering and displacement among civilians.
As the DRC gears up for what is anticipated to be a highly contested presidential election next month, the nation is caught in a relentless cycle of violence.
The conflict between M23 rebels and government-supported militias in the eastern provinces, particularly North Kivu, has seen an upsurge since early October, with devastating consequences for the civilian population.
The escalating conflict has led to a marked increase in civilian mortality and displacement, as militant groups battle for control of territories rich in natural resources.
The M23, a Tutsi-led group with a history of rebellions in the region, has resumed operations after years of dormancy, leading to the displacement of over a million people, despite the presence of international peacekeepers.
Alafia Bailey, a scholar from Houston, Texas, emphasised the importance of raising awareness about such global conflicts, highlighting that 'we need to be able to shed light on multiple injustices'.
The DRC's struggles are compounded by the withdrawal of regional and international peacekeeping forces following years of protests against civilian abuse.
The United Nations has observed an uptick in hate speech and ethnically targeted violence, particularly against Congolese Tutsis.
An alarming report by Reuters, stated that over 5.7 million people are in dire need of medical and other forms of relief, with nearly 4.8 million internally displaced people (IDPs) seeking refuge with host families within the eastern provinces.
The International Organisation of Migration (IOM) has highlighted the dire circumstances, with IOM's Chief of Mission in DRC, Fabien Sambussy, stating, 'For decades, the Congolese people have been living through a storm of crises,' and urging for more resources to manage the situation effectively.
The exploitation of the DRC's vast mineral resources, including cobalt and copper essential for modern technology and the green energy transition, has also exacerbated the humanitarian crisis.
Netfa Freeman, a community organiser, reflects on the historical context, asserting, 'The Congo is rich in almost everything the world needs,' and notes the link between the West's exploitation and the ongoing turmoil.
Human rights organisations have documented severe abuses in mining areas.
In a report, Powering Change or Business as Usual?, Amnesty International and the DRC-based organisation Initiative pour la Bonne Gouvernance et les Droits Humains (IBGDH), detail how the scramble by multinational companies to expand mining operations has resulted in communities being forced from their homes and farmland.
'The forced evictions taking place as companies seek to expand industrial-scale copper and cobalt mining projects are wrecking lives and must stop now,' said Agnès Callamard, Amnesty International's Secretary General.
'Amnesty International recognises the vital function of rechargeable batteries in the energy transition from fossil fuels. But climate justice demands a just transition. Decarbonising the global economy must not lead to further human rights violations.'
Growing demand for so-called clean energy technologies has created a corresponding demand for certain metals, including copper, and cobalt, which is essential for making most lithium-ion batteries. These are used to power a wide range of devices including electric cars and mobile phones. The DRC has the world's largest reserves of cobalt, and the seventh largest reserves of copper.
The average electric vehicle battery requires more than 13kg of cobalt, and a mobile phone battery about 7g. Demand for cobalt is expected to reach 222,000 tonnes by 2025, having tripled since 2010.
In the heart of the city of Kolwezi long-established communities have been destroyed since a vast open-pit copper and cobalt mine was reopened in 2015.
Since mining activities resumed, hundreds of residents have been told to leave, or have already had to move. Communities have not been adequately consulted and plans to expand the mine have not been made public. Some residents found out their houses were to be demolished only after red crosses appeared on their properties.
Amnesty International and the Initiative for Good Governance and Human Rights have reported forced evictions and human rights violations linked to mining operations.
One harrowing account includes the burning of the Mukumbi hamlet to facilitate mining by Chemaf Resources, as recounted by local chief Ernest Miji to Amnesty International.
Amidst the humanitarian plight, the DRC's relationship with neighbouring Rwanda remains strained.
Accusations fly between Kinshasa and Kigali over support for the M23 and other militias, with international stakeholders like the US and France voicing concerns.
Moreover, the logistical challenges in the region have become more pronounced.
A truckers strike in Kolwezi has halted the movement of essential minerals, threatening to tighten global supplies of copper and cobalt, critical for power generation, construction, and the burgeoning market for electric vehicles.
In response to the escalating violence, the DRC government and UN peacekeepers have launched Operation Springbok to fortify the security around Goma.
President Tshisekedi has criticised the mission's inability to quell rebellions or adequately protect civilians, even as regional military forces are poised to join the efforts.
These developments come at a time when companies like KoBold Metals, supported by notable figures such as Bill Gates, are looking to invest in the DRC's mineral wealth, with CEO Kurt House acknowledging the country's rich potential for materials vital to the green-energy transition.