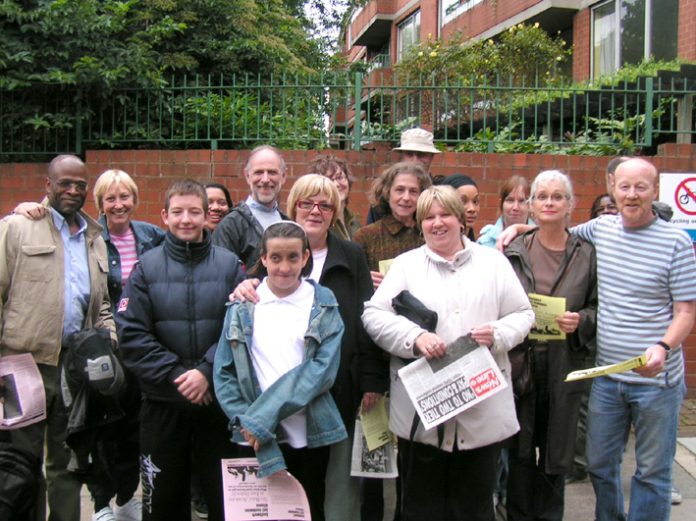 ANGRY teachers, parents and pupils from closure-threatened Highshore special school in Peckham attended a meeting of the Nunhead and Peckham Rye Community Council on Wednesday night.
The meeting was also lobbied by the National Union of Teachers (NUT), in opposition to plans for another privately-sponsored City Academy in Southwark, south London.
Southwark already has a reputation as the 'world capital of academies', forcing comprehensive schools in the borough to close their doors.
Academies are the brainchild of the Blair government.
Erveline Dickens, who funds her own youth project on the Cossall Estate, supported what Southwark NUT had to say about the academies.
She said: 'I've looked at the amount of kids in academies and it's ridiculous. Over 1,000 kids.
'I don't think it's right they're closing special schools,' she added.
Teachers and parents told News Line that under the latest plans, Highshore school will be moved from its well-established site in Highshore Road, Peckham – set in outstanding, spacious grounds – to the site of Archbishop Michael Ramsey secondary school in Camberwell, which is set to become a church-run academy.
Julie Goodger, a parent, said: 'We've come here today to demonstrate against the closure or "co-location'' of Highshore.
'Highshore is very important to me. It is vital for my daughter.'
Pete Jones, an art teacher and member of the NUT, said: 'They're giving us a little area of Archbishop Michael Ramsey's playground with a church academy.'
Jackie Cheeseman, school business manager, said: 'We're supposed to have 128 kids on our roll, but we're actually over-subscribed. There are 140 pupils at Highshore.
'They're going to reduce the number of children at the proposed site to 90.
'Our argument is really about the environment, the area, and the change of ethos.
'The playground and garden space is second to none at Highshore and is massively important to our curriculum.
'And we were judged outstanding with our community links by an Ofsted report of January 2007.'
Parent Wendy O'Driscoll said: 'My son has been at Highshore since Year 7 and now he's in Year 10 and it's really pulled him up.
'We're determined to keep Highshore open.'
Kathy Black, a teaching assistant in the art department, said: 'Our main facilities are the ones that won't be replicated if we have to move to Archbishop Michael Ramsey – our gardens, our central community location, the very nearby facilities like Peckham Library and Sports Centre and the local shops and cafes.'
She said the school playground and gardens were vital 'therapeutic spaces' that assisted the children's development, where science and art could be taught.
'Southwark is going ahead with "inclusion'' policies based on research which has since been brought into question, she added.
'It is part of an overall cutback in the borough.'
Jackie Cheeseman said the closure of the special needs school at Peckham would mean 'a loss of choice for children.'
She said: 'This has been imposed without adequate consultation, particularly with the parents and their children, and it was only on May 1 that it was made clear to us that we move or close.'
Pete Jones said: 'I've been at Highshore for over 20 years and it's always been a very successful school.
'It's changed its nature over the years, it began as a school for children with moderate learning difficulties and now it has become a school for children with complex learning difficulties.'
He continued: 'This seems to be a cost-cutting measure.
'They're using this new money to build these new academies and other programmes, while they send us to another site.
'And when they build an academy at Archbishop Michael Ramsey, they're going to build a "new Highshore'' school on the site.
'Because it's a church school it will be a church-run academy, which is also against our principles.
'But our main objection is that in the plans, although they say they are going to give us more classroom space in this new school, we will lose all our outdoor space.
'It's unclear what will happen to our present site, but the plan is to move kids from Bredinghurst school, which is a school for children with emotional behaviour disorders, and also bring children from the Pupil Referral Unit to the site.
'To some of our staff they think that's a real nonsense, because apparently they say our school is not fit for purpose to teach our kids because there's not enough space!'
Local residents suspect that the school will end up being sold-off to property developers.
Pete Jones added: 'The children we take mostly live in flats.
'Their parents don't let them out, so Highshore and particularly its playground and garden space, is vital to them.
'The only time they really get outdoors is when they are at the school, basically.
'We've been threatened with outright closure if we oppose these plans.
'Initially, we were told throughout this planning procedure we had the option to pull out at any time if we weren't happy with any of the plans.
'But then we were told the option was either relocation or close.'
One member of staff said: 'One of the things that has happened is a majority of our governors are against the move, but a few of the governors have run roughshod and are for it.'
Angus MacDonald, a drama teacher, said: 'Highshore is a successful school, which has just had a successful Ofsted report and is centrally located in the heart of the community.
'We're all concerned that the right thing is done for the future of the children.'
Julie Goodger said: 'My daughter needs more education.
'I think Highshore is one of the best special needs schools I've seen.
'My daughter can't go into a mainstream school.
'I work in a mainstream school and I know she couldn't cope.
'We need more funding for special needs education, not less.'
Cynthia Vincent, a French teacher and NUT member, said: 'We are worried about the kids and all the things they will lose by moving.'
Officials from Southwark Council and academy sponsors Harris gave a presentation to the Community Council meeting.
Academies are the brainchild of the Blair government.
Southwark NUT Joint Branch Secretary Michael Davern lobbied the meeting, giving out leaflets.
The Southwark Anti-Academies Alliance is demanding: 'No Boys Academy in East Dulwich!'
Their leaflet says: 'Why does Lord Harris get to decide on the location of the new school?'
The alliance warns that Southwark already has five academies, with 'the remaining three schools set to become academies by September 2008.'
Michael Davern said: 'I'm here to support the Highshore campaign and the campaign against the closure of secondary schools in Southwark, and to support the campaign against the undemocratic Harris Boys' Academy in East Dulwich and to ask: 'Why is it up to Lord Harris to decide on the location of a new school?'
'Why can't all schools be under democratic, local authority control?'